Ok. I'll admit another bit of cheating going on. I 'penned' this post on Sunday night. Why you ask? Well at the moment, the only noises I hear are from a sleeping kitty and dog. And an errant firework outside the house by some revelers celebrating the end of summer I reckon.
Question for you. If I bring something to the table such as a witty post at random times, am I entitled to something? Like an all-expense paid visit to one of the places that visit this blog from a faraway place? I just got a hit from Surbaya Jawa Timur. I had to look it up. Since I'm nice, I'll link it for you
here
. And yes, I'd like to visit there once the ticket shows up in my mailbox.
Thirty years ago tomorrow, my sister married her husband. You hear about in-laws being like out-laws. Well this in-law is about as good as an in-law could possibly be. And I truly mean that from the heart. He's not only a rock of stability, but also a rock of kindness.
I love hearing when babies are born. I'm a bit edgy until I hear the wee one is safely in the parents arms. But I'll admit something. After the baby is born and we know he/she is doing ok, I just love to hear what they have chosen for a name. I love names. I love hearing the new babe's name. If this child has an older brother or sister or eleven older brothers or sisters (MJ!), does the name "go" with the older ones? If this child is the 2nd son or daughter born to the family, is the name chosen something they liked but not quite as much as the older child's moniker? On a side note: the Chairman had a huge say in the names of our children. Once he heard a name and liked it, there was no turning back. Hence, we have R, T, and M. I still like their names so he must have done good.
So tomorrow is back to school for the MYP. It is bittersweet. As the big yellow bus roars away, I'll be doing a happy dance... through tears.
But until then, we will be relishing the last day of summer together as a family. Hopefully without much work involved!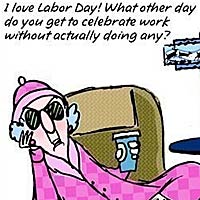 And... just because.